Welkom bij het Yamaha MT01 Forum Nederland!
The MT-01 is a motorcycle made by Yamaha since 2005, available in Australia, Europe, India, Japan and North America. It has unusual features with a cruiser-style 1,670 cc (102 cu in) air-cooled, overhead valve V-twin engine but sportbike or naked bike style frame and suspension. The engine is derived from the Yamaha Warrior XV1700 and modified to suit application in the MT-01, while the forks and brakes are derived from the 2004 to 2005 Yamaha R1.

Originally unveiled as a concept motorcycle at the 1999 Tokyo Motor Show, strong public interest in the machine led Yamaha to develop a production model, which was released in 2005.[2][3] The Motorcycle Design Association (MDA) awarded the MT-01 the Open Category award at the 2004 annual Motorcycle Design Awards at INTERMOT.[4] Since its release, the MT-01 has remained largely unchanged.

There are three tuning kits (Stage 1, 2, and 3) available for the MT-01, which realise performance increases from standard at each stage.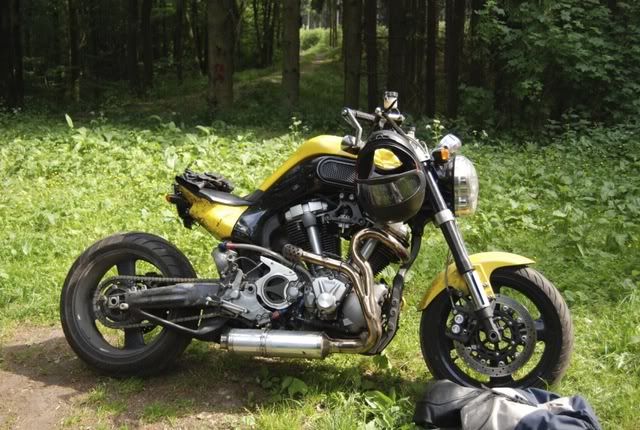 Re: Bienville Legacy V4
Last Poster: eliminator 44 in Overig Gepost op 17 maart 2017, 08:12:37
Het wil maar niet lukken in het land van "the Donald", hebben ze eindelijk eens een fiets met iets anders dan een V2 erin en dan gaat de rest weer terug in de tijd.
Het kon best een mooie fiets zijn met een usd voorvork erin, gewone achterbrug, normale tank en niet zo'n opzichtige teller etc

Best een mooi kontje trouwens.
leden: 1
gasten: 6
---